FIELD STATUS:     

OPEN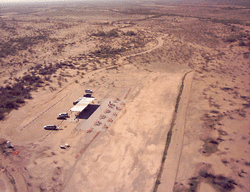 Welcome to the East Valley Aviators (EVA), located in Apache Junction, Arizona. The East Valley Aviators is a private members only model aircraft-flying club that is dedicated to the flying and promotion of the model aviation hobby; particularly radio control models. EVA was established in 1992 by a group of approximately 30 modeler and friends who wanted a safe, permanent place to fly their models. This small group of friends devoted over two years and hundreds of hours of their time locating, developing, and finally establishing the club and flying site we now enjoy on a daily basis. The club pays a substantial fee for the continued use of this land. In addition, the property fencing, shade ramada, grading of the road, parking area and runway were all installed using EVA dollars and membership labor. Up keep and maintenance of our facility is the responsibility of every member of the club.
Our club prides itself on providing a safe, friendly, low-key, recreational environment for RC modeling. As a result, almost every day of the year is a fine flying day for our members. The club currently has over 300 members ranging in age from 10 to 90 years of age. A large portion of our membership is comprised of winter residents who typically live in the valley from November thru March. These months tend to be the busiest time of the year for the club.
EVA Board of Directors
---
Frequently Asked Questions (FAQ) about Superstition Field and East Valley Aviators (EVA)
---
How do I join or renew my membership?… you go here!
I want to contact the club or send a message to the club… you go here!